DC Theatre Ad Commune
What exactly are we trying to accomplish here?
If you run a small theatre company in or around Washington DC, you probably know that your biggest obstacle in building audience is that most people don't know we're here. Your typical theatergoer can name The Kennedy Center and maybe one or two other big, expensive theatrical institutions, and simply have no idea the extent of the vibrant scene we have in this town.
Being a computer guy, I tend to use a digital hammer when I see that kind of nail. I've also noticed that most small companies don't leverage their internet presence much beyond simple social media activity, even though it's about the cheapest way to get yourself in front of a lot of eyes.
After some research on what the smart kids are using, I discovered AdRoll, which uses a technique called retargeting. Essentially, retargeting only shows ads to people who've visited your website previously, so you only advertise to people you know are already fans. Traditional web ads target much more indiscriminately, meaning that in order to get it in front of someone who might actually want to buy tickets to a show, you have to pay a lot more money for a lot more ad impressions.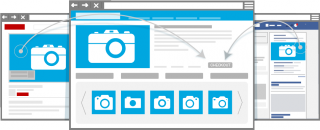 That sounds nice. How is that useful?
For a small company, retargeting isn't all that useful all by itself. If you're just targeting your own fans, you're at best keeping them in the fold. Which is a good thing! But...
Services like AdRoll, as it turns out, allow multiple websites to feed into one shared pool of visitors. Instead of one website's worth of fans to tell about your next show, we can band our audiences together. Say someone visits Flying V to purchase a ticket. That person is now in the shared visitor pool, and a month later, when Brave Spirits runs ads for their next show, the Flying V fan has a good chance of seeing that ad, and perhaps finding out about theatre they wouldn't otherwise have known existed. You can think of it as a more sophisticated version of trading ad space in programs.
Depending on your needs, you can run a single campaign for as little as $25/week (Adroll's minimum). If it sells a ticket or two per weekend, it's paid for itself.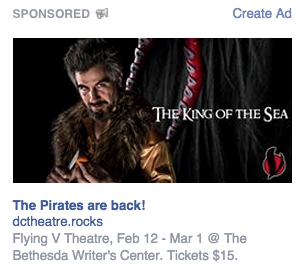 How can my company or theatre arts org get involved?
Get in touch with me at stange@johnstange.net to get the ball rolling. You'll have to add a piece of Javascript to your website to wire it into Adroll's visitor tracking network, and set up a privacy policy for your site if you don't already have one. See the FAQ for more detailed information.
Once that's done, I'll provide you with a login for dctheatre.rocks, where you can design ad campaigns. The campaign request editor allows you to adjust the campaign parameters to predict how much it will cost to run an ad campaign, so you can design a campaign that fits your budget. I'm always available to advise, as well.
Who else is participating?
About thirty small-to-middling sized theatre producers in and around Washington, DC. There's a lovely ticker at the bottom of this web page with the current list of participating organizations, in fact. You've probably seen our ads, either on Facebook under the "DC Theatre Rocks" moniker, or out in the wilds of the web, on major newspaper sites and places that have nothing but funny pictures of animals.
Are you making money off of this?
Absolutely not. This is a pro-bono operation. If you participate and you purchase an ad campaign, then the ad campaign is all you're paying for. I'm donating my time and expertise (and no small amount of money of my own), because I think these tools and techniques can be very useful to theatremakers. I want more people to see the brilliant work that gets done in this town, don't you?
Er, who are you again?